Outpatient Clinic Urology
Peritus clinic offers an outpatient clinic in Urology with experienced Urologists investigating
Hematuri (blod i urinen); cystoskopi, CT urografi och urincytologi.
Förhöjt PSA; MRT Prostata, fusionsbiopsi ultraljud-MRT, patologi (UniLabs) och behandlingsbeslut.
Vattenkastningsbesvär (LUTS); ultraljud prostata, flödesmätning, residualurin och behandlingsdiskussion.
Manlig inkontinens; cystoskopi, flödesmätning, hemtest och behandlingsdiskussion.
Hydronefros och oklara njurförändringar; CT urografi, cystoskopi, ureteroskopi.
Hydrocele (vattenbråck), impotens, sterilisering, förhudssjukdomar, prostatit och andra godartade urologiska tillstånd.
Second opinion avseende urologiska sjukdomar.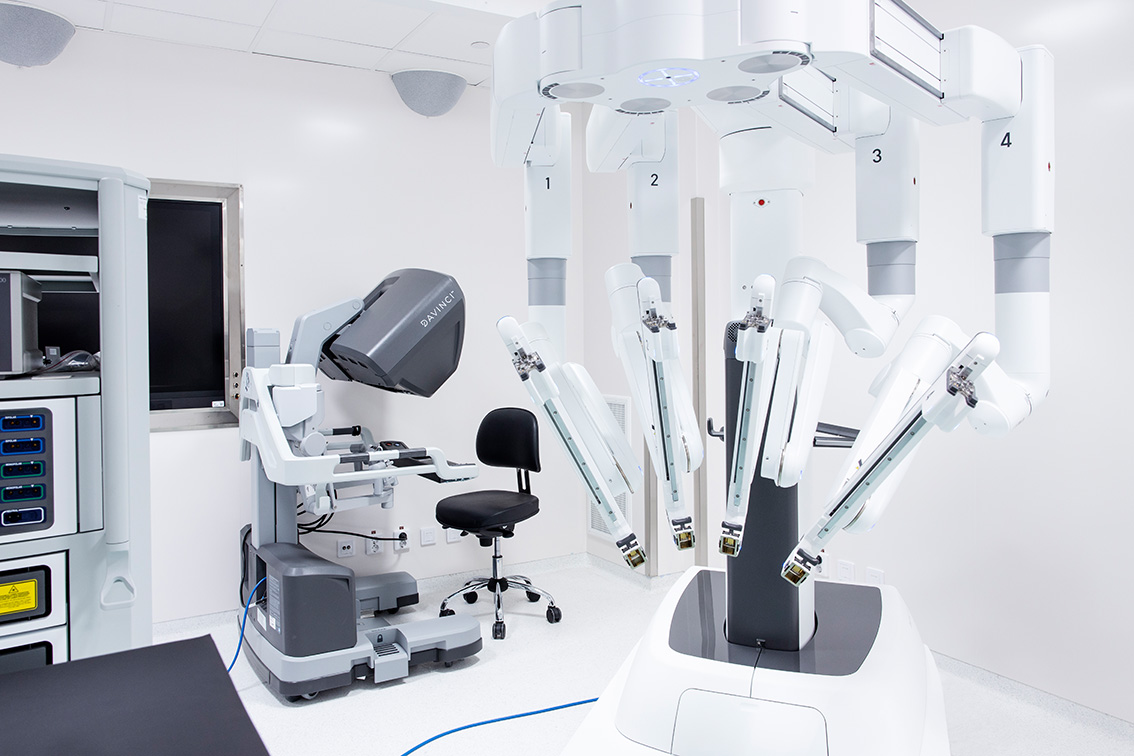 Radiology
Investigations offered in our radiology department.
Computer tomography (CT) of all organs

PET-CT for detection of metastasis

MRI for diagnosis of cancer and non-cancerous disease
Urologic surgery
Peritus Clinic offers:
Robot assisted laparoscopic prostatectomy (RALP) with/without lymph node dissection 

Male sling or Artificial Urinary Sphincter (AUS) for male incontinence 

Penile prosthesis for impotence 

Transurethral resection for benign or malignant obstruction (TUR-P)

Transurethral resection for bladder tumour (TUR-B).

Laser vaporisation (Thulium) for benign enlargement of the prostate.

Minor urological surgery for hydrocele, vasectomy, phimosis, and penile disorders 

Renal surgery; resection of renal mass, nephrectomy, pyeloplasty.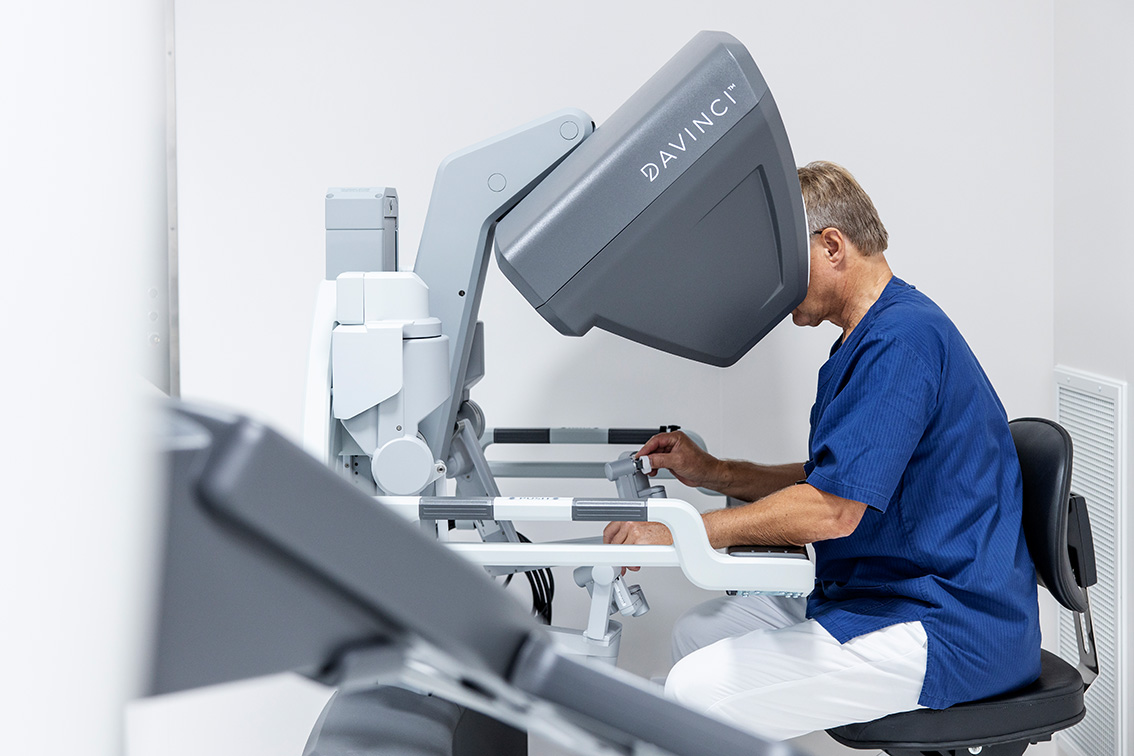 Vår operationsavdelning har en operationsrobot för avancerad prostatakirurgi, njurkirurgi mm.
Capacity
PeritusClinic has two reception lines and four operating rooms with state-of-the-art equipment for anesthesia and surgery. In addition, we have a fully equipped x-ray department for modern diagnostics qualitative postoperative follow-up.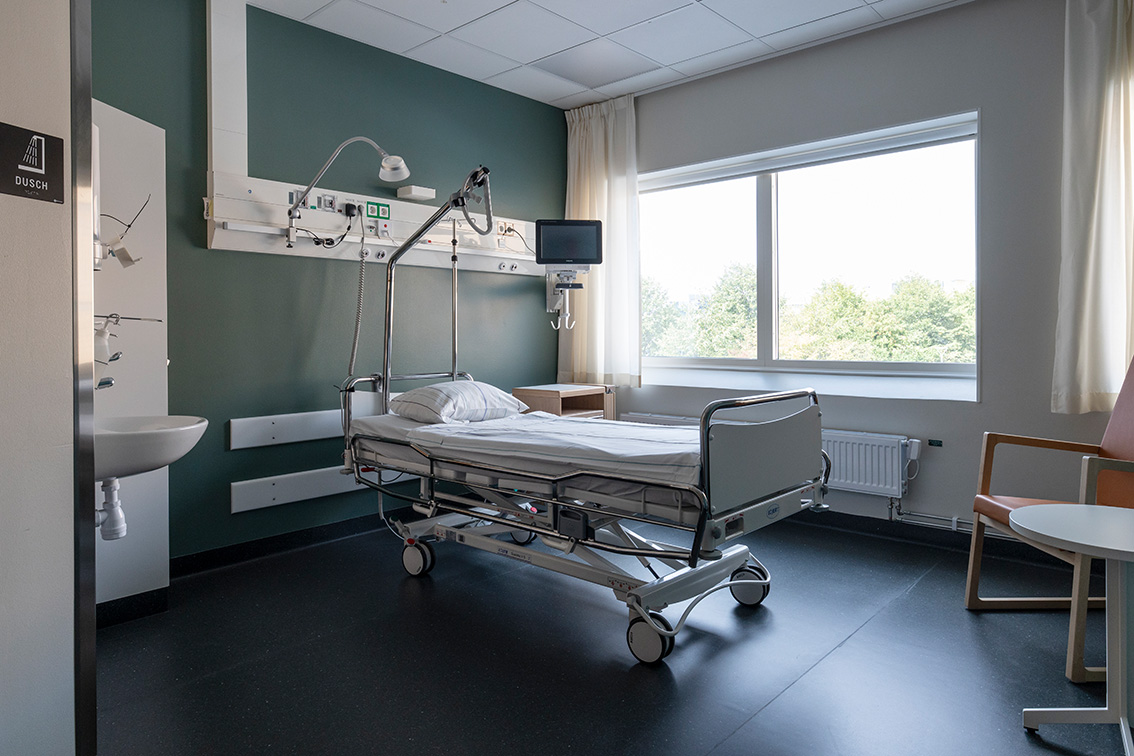 We offer five single rooms and two double rooms, for a total of 9 patients.
Follow-up
PeritusClinic is focused on cancer treatment, with the large patient groups being prostata cancer, bladder cancer and kidney cancer. We have the ability to follow the patients after the treatment for curative purposes, as well as active monitoring where no immediate measure is needed. Patients with urine leakage after curative treatment can be investigated and get treated with urotherapy and/or surgery. The clinic has specialist trained nurses for rehabilitation of impotence after treatment, where we in addition can offer prosthesis surgery.
Patient focused and cohesive healthcare
PeritusClinic offers cohesive healthcare without wait and is strives towards having the shortest lead times in the country. The clinic's healthcare streams are designed to meet the requirements set by the standardized lead times for patients. We believe this is possible because all parts of the diagnostics and treatment process are available in-house at the clinic. 
Patients with a cancer diagnosis often struggle to navigate in a complex system with several contacts to the healthcare system. Therefore, PeritusClinic has specialist trained contact nurses within the field of urology and oncology coordinating the healthcare and treatment through the whole process and with potential transitions between private and public healthcare. 
PeritusClinic meets all the regulatory requirements when it comes to documentation and continuous reporting in national quality registers. 
The clinic is equipped with the latest technology within digital information management and image diagnostics for increased patient security. 
PeritusClinic reports all treatment results openly on the website and in national registers.
Profile areas:
MRI and perineal fusion biopsies for diagnosis of prostate cancer 

Lead time from referral to diagnosis in one week

Cryosurgery for local recurrence after radiation for prostate cancer

Treatment of benign prostate hyperplasia with Thulium laser vaporization. Day care treatment possible in selected patients. 

Treatment of male incontinence with male sling or Artificial Urinary Sphincter (AUS) 

Treatment of erectile dysfunction with penile prosthesis when pharmacological treatment failed
We offer investigation of :
elevated PSA.

hematuria.

Lower urinary tract symptoms (LUTS).

Male incontinence

Erectile dysfunction.

Other urological symptoms
Our profile in urological surgery is:
Robot assisted laparoscopic prostatectomy 

Transurethral resection for benign prostate enlargment (TUR-P) 

Laser vaporisation for benign prostate enlargment (thulium).

Treatment for local recurrence after radiation treatment

Transurethral resection of bladder tumor.

Robot assisted lapaoscopic renal surgery.

Male slyng plasty or Artificial Urinary Sphincter for male incontinence.

Penile prosthesis.

Minor urological surgery